Konnichiwa,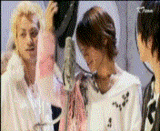 I think these gifs are so funny, I wanted to share them with you
here
Kame being disciplined :)
Ueda, I don't think the guy she likes would look like that hahaha...
Kame-kun, you are blinking weird hhehhe
When Kame and Koki are involved, is there method to their madness?
Ueda dear, what's causing that?
Practice makes perfect :)
Playful times during the making of CUW pv....
I want to switch place with that rat looking thing... what's that?
Hmmmmm... let's do weight with a vase!!!! heheheh... only Junno can do that... my favourite scene from Yukan Club :)
Maru-kun, you are so passionate about hugging yourself.... here, let me do it!
After seeing their bakaness, how could you not love them :)
EDIT:
hehehe hilarious indeed... the full otter video is available at the community
kat_tun5
so watch it... it's really funny and cute :)
Thanx to: Yamapi00
Current Mood:
exhausted
Current Music: Yellow by Coldplay